CAC, Inc. is a manufacturer of CAC® (Copper Aluminum Copper) and CSC. Its licensed and patented product featuring copper foil attached in their 'state-of-the-art' clean room to one or both sides of an aluminum separator sheet based on the PCB application. CAC provides superior surface quality important to producers of increasingly high technology PCBs as well as offering labor and material cost savings.
Have a question? Get in touch

CAC/CSC Copper - Press plate constructions
CAC® (Copper Aluminum Copper) and CSC® (Copper Steel Copper) are thin Aluminum or Steel press plates with one important difference. They are embedded between two Copper foils with the sensitive sides (shiny) protected from airborne contaminants or prepreg dust.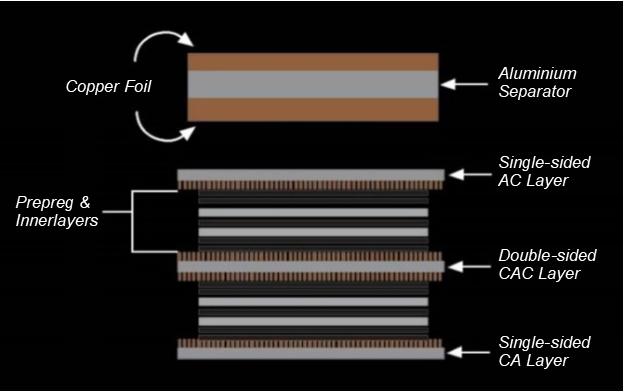 Facilitates the use of ultrathin
(> 6 μm) or reverse-treated Copper foils
Prevention of wrinkles or damage to the
copper foil during installation
Improved thermal conductivity leads to
faster heating rate
Capacity improvement through thinner
press sheets
Lower labor costs through faster
bildup process
Copper Foil
CAC or CSC is available with the following Copper foil:
6 µm – 0.175 oz
9 µm – 0.25 oz
12 µm – 0.375 oz
18 µm – 0.5 oz
35 µm – 1.0 oz
70 µm – 2.0 oz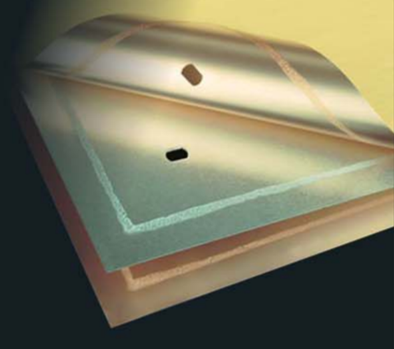 Separators
CAC chooses the best alloys for use as a press plate. The alloys are heat treated to meet the requirements of today's lamination. The following strengths are available:
Aluminium:
0.18 mm 0.007″
0.25 mm 0.010″
0.38 mm 0.015″
Steel:
0.22 mm   0.009″
CAC / CSC Lamination Foil
CAC / CSC is available as a double-sided version as well as CAC or CSC and as single sided version as CA or CS.
CAC / CSC is available in different formats with or without registration holes and according to customer requirements