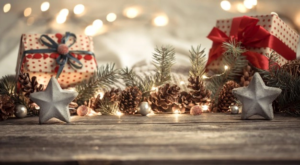 Dear customers, dear partners,
We very much hope that you and your families have come through this year safely! We have all reoriented our lives, reduced contacts, but maybe lived more intensively and also more creatively in other places and redesigned our everyday and working lives.
As a slight highlight, we can look back on a week at the fair in Munich and it was just nice to see familiar faces in person again.
𝙊𝙪𝙧 𝙩𝙚𝙖𝙢 𝙬𝙞𝙨𝙝𝙚𝙨 𝙮𝙤𝙪 𝙖 𝙬𝙤𝙣𝙙𝙚𝙧𝙛𝙪𝙡 𝘾𝙝𝙧𝙞𝙨𝙩𝙢𝙖𝙨 𝙬𝙞𝙩𝙝 𝙮𝙤𝙪𝙧 𝙛𝙖𝙢𝙞𝙡𝙮. 𝙀𝙣𝙟𝙤𝙮 𝙩𝙝𝙚 𝙩𝙞𝙢𝙚, 𝙝𝙖𝙫𝙚 𝙖 𝙜𝙤𝙤𝙙 𝙨𝙩𝙖𝙧𝙩 𝙞𝙣𝙩𝙤 𝙩𝙝𝙚 𝙣𝙚𝙬 𝙮𝙚𝙖𝙧 𝙖𝙣𝙙 𝙨𝙩𝙖𝙮 𝙢𝙞𝙣𝙙𝙛𝙪𝙡 𝙖𝙣𝙙 𝙝𝙚𝙖𝙡𝙩𝙝𝙮!
Your CCI Eurolam Team